Words Have Meaning, Names Have Power: The Importance of a Strong Brand Name
10/09/2020
Picture the scene. Your new business is picking up speed. You've defined your strategy and business plan. You've secured initial investment. You've assembled your core team. Now comes the inevitable question: so what are we called?
Sometimes it comes naturally. You come up with a name that's unique and memorable, a name that everyone's agreed on, and you're able to land the URL without breaking the bank. That's the ideal scenario. But in reality, the naming process isn't quite so simple. More often than not, individual stakeholders will have contrasting ideas as to what the name should be. And even if you find a perfect name that pleases everyone, it's more than likely that another company has already gained full copyright and secured the .com URL.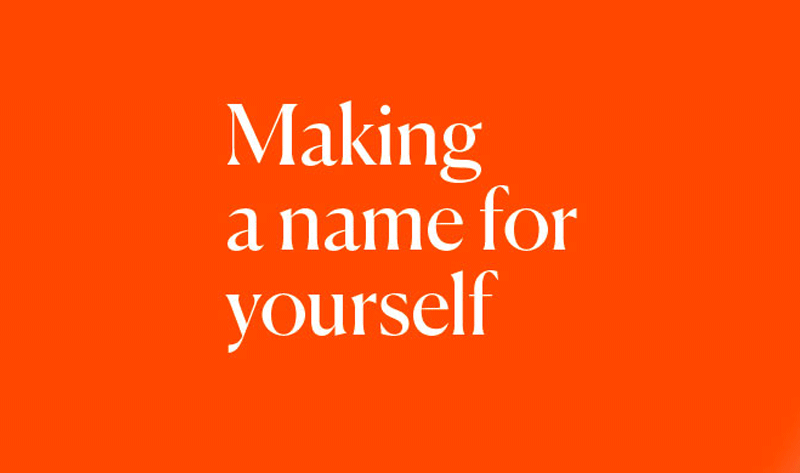 What we're saying is: naming is hard. It's particularly hard because names are so important. They can't be rushed or dashed off. Like family names, a company name should be something to take pride in. It should be something that employees can identify with and rally behind, something that unites each and every person across the business.
"The naming of cats is a difficult matter" – T.S. Eliot
We've spent decades naming companies across all sectors, and it's taught us how tricky the process can be, which is why when we do land on a unique, meaningful, own-able name, it's all the more rewarding.
A few years back we were tasked with naming a new construction consultancy which emerged after the absorption of EC Harris into a larger firm. We met with the team, and through a series of workshops it became clear that their USP was their ability to focus on the minutiae of a project without ever losing sight of the bigger picture, the wider vision. We landed on the analogy of a hawk, and further research led us to a hawk that many consider to be the most intelligent, the only hawk to hunt in a pack. And this was where luck played a hand. Its name was the Harris hawk. We soon found that a pack of hawks is called a cast. And with that, Cast was born. As a name, it's short, evocative and ownable, all while offering a fitting link to the company's origins.
It can be easy for businesses to overthink their names. For example, when dispute resolution experts Hill and Knowles merged with seven other smaller firms, they came to us for a name that would bring together their new offering. They'd come up with a number of options, but nothing was quite working. After trying a few different routes and ideas, we ended up simplifying the organisation down to Hill, Knowles & Associates, which soon became HKA. We secured the hka.com URL, protected the name, and created a strong platform for the new consultancy to launch as a united front the world over. It goes to show that it's often the case that the solution is right under your nose. As Steve says, common sense isn't always so common.
On the other hand, naming might sometimes demand something more abstract and evocative – a single word or sentiment that captures the spirit of the business. This was the case when Lead Management came calling. Already an established project management company, they were looking to shake things up in the sector. Ambitious and inventive, they needed a name that would channel these traits. And the name Opera did just that. Evoking creativity, expertise and togetherness, it brought something vastly different to the industry, immediately setting them apart from their competitors.
Alongside businesses, we've named buildings, boats, elite bicycles and more. When we were approached to brand a new building overlooking Hackney Downs, we knew we needed to take the spirit of the Downs and channel it into the name and the brand as a whole. The initial challenge was to unite the multiple stakeholders behind a single name. After a couple of workshops, we hired a tree mapper to dig deeper into the specific forms of plant life on Hackney Downs. What surprised us was the pure variety of flora and fauna, and this variety was what ultimately led us to the name, The Otto. Persian in origin, 'otto' means 'the fragrance and essential oils derived from plants.' We loved the sentiment and used the graphic form of the word to reflect the building's two towers, creating a name that celebrated the beauty of the Downs and united all those invested in the project.
Now more than ever, an ownable, memorable brand name is paramount to long-term success. The pandemic has meant that certain businesses are considering mergers, others are having to shift their offering slightly, and many are re-starting under a different guise. This marks a huge challenge for businesses, and the coming months will no doubt pose more challenges still. But with every challenge comes opportunity. For those businesses that have had to change and evolve because of the pandemic, there is an opportunity to build something new and exciting. And whatever shape your business takes over the coming months, it will need a strong, compelling name to lead you firmly into the next era.
If you have any questions about naming or need our advice, get in touch on hello@steve-edge.com. You can also click through to our page on branding strategy to discover more about our process.