A new look for Chris Dyson Architects
11/03/2021
5 min read
How can we best showcase the work of an award-winning architecture practice?
This was the challenge we set ourselves when Chris Dyson Architects came to us at the back end of 2020. With projects including a residential conversion of a Cotswolds gasworks, the new cafe at Crystal Palace Park, and a restoration of the Grade II listed buildings at Hyde Park Corner, CDA needed a new website that would celebrate their award-winning work.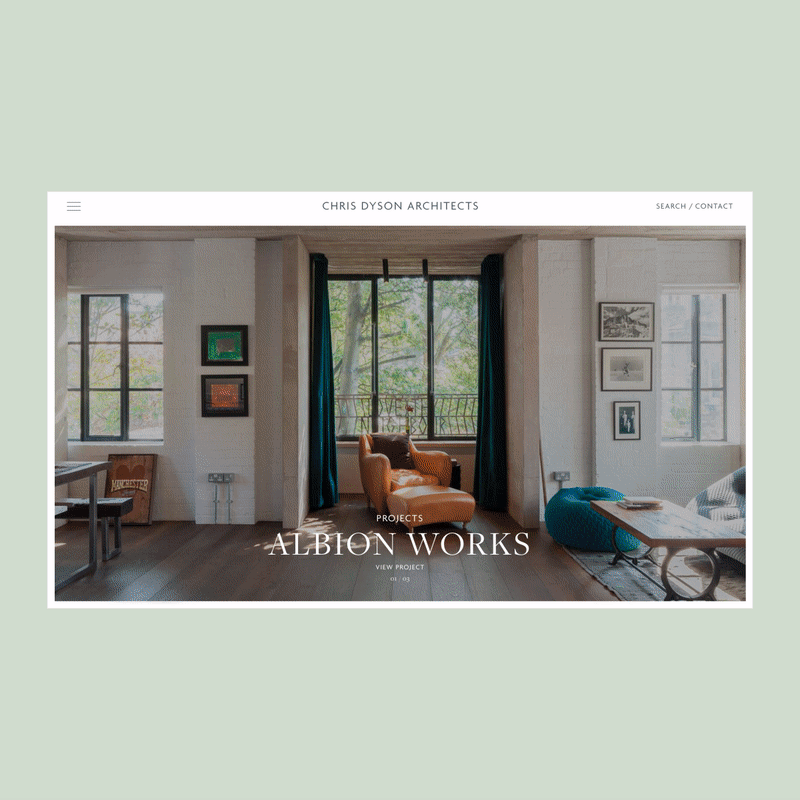 So we put our (virtual) heads together, and got to work on a solution. When it came to the design, we knew we wanted to bring their photography to the fore. This meant creating a set of visual assets that complemented their beautiful project imagery. We started with colour. Although their core brand identity was already in place, we agreed to evolve their colour palette, drawing on warm, subtle, earthy colours to reflect the passion for materiality that runs throughout their work. From here, we created a new family of web typefaces inspired by their commitment to conservation and their exquisite attention to detail.
With colour, type and photography all coming together, we turned our hands to the web build. As always, speed was key. Web users typically drop off if a site takes more than two seconds to load. So to keep things speedy, we stripped back on coding, removing excess bulk and ensuring the high-res photography was never hampered by slow loading time.
"SED have produced a wonderful user friendly and dynamic new platform for our website. Simple to update and beautifully crafted digital architecture, I highly recommend the team to other companies and individuals, they are a pleasure to work with."
Chris Dyson – Founder
Once we'd optimised the user experience, it was important to make the website client friendly. This meant training the CDA team on how to use, navigate and update the Content Management System. We created a short, simple training manual and held a series of virtual classes that included step-by-step guidance on how to update projects and post news stories.
And when it came to the news stories, we wanted to make sure CDA weren't limited to just the written word. With this in mind, we built extensive multimedia functionality into the site, accommodating podcasts, videos, stats, charts and more.
From design through to build, the resulting website is a showcase of everything Chris Dyson Architects stand for: simplicity, practicality and an enduring commitment to beautiful design.
–
Take a look around the new Chris Dyson Architects website.
Interested in improving your digital presence? Contact us at hello@steve-edge.com.